I am sure you have heard of Craigslist, but where I live, it's all about KSL Classifieds.  This is a news website that has free classifieds.  It is AMAZING!  I have sold and bought things from KSL and have not been disappointed yet!  Well, this story starts with a Friday night, browsing the FREE section.  I had never checked out the FREE section, but figured I'd give it a shot.  After an hour or so I found a listing for free barn wood.  It turns out a construction crew was doing some work right off the freeway about 10 miles from where I live.  They tore down a small shed and an old wooden fence.  All I had to do was follow their directions and load up all that I could.  My husband wasn't too keen on spending his Saturday morning picking up someone else's free junk, but I was in!  I hardly slept a wink, figuring everyone would snatch up all that wood before dawn.  I got out of bed and packed my Chrysler Town and Country Transformer minivan with a tarp and gloves.  You see, it had snowed that night, some 2″ so I needed to protect my car and my hands.  I roll up at the location of the wood and not a soul is in sight.  No footprints, nothing.  I guess not EVERY one was looking for barn wood on a cold snowy Saturday morning.  Any-who, I packed up as much wood as I could fit in my van, and drove home, not sure what I was going to make from my treasures.  My hubby borrowed a power washer from a friend and I prayed all the mud, snow, spiders and a little moss off the wood.  Then the idea of the lamp was born from one of the railroad ties.
Isn't it beautiful?
There is one similar I found (after I made mine) from Currey for $740!
It reminds me of one Anthropologie sells for $298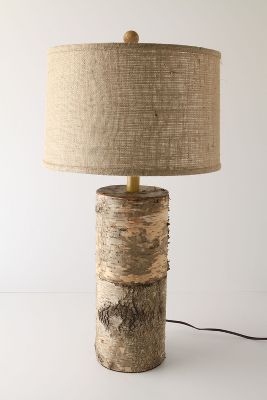 OK, here are the instructions.
Step 1.  Pull out any nails, barbed wire or other undesired foreign objects.  They actually leave odd shaped holes that look beatiful on the finished product.
Step 2. Cut the railroad tie to desired height.  I chose 14″.  My husband cut it with a circular saw (he had to rotate it in order to cut all the way through the wood).   It was such hard wood that it started to burn as the saw heated up, I love the dark burn marks and the grain of the wood.
Step 3. Lightly sand the top and bottom to remove some of the circular saw marks.  I also lightly sanded with a mouse sander the front and sides of the lamp.  You can see where this was done because the brown of the natural wood shows through the gray aged exterior.
Step 4. Use a long drill bit to burrow out a hole from the center, diagonally to the back (I did this because the back of my wood had imperfections making it easier to thread my wire later).
Step 3. Take apart an old lamp for it's parts.  You can also buy lamp parts, but I had an old lamp collecting dust so I used it.  Feed the wire up through the burrowed hole to the center of the lamp and reassemble lamp (I had to cut the tube surrounding the parts to fit the desired height of my lamp shade to 3 1/2″).
Step 4. Pick a lamp shade and set it on top!  I chose an inexpensive shade from Target.  It has a natural feel and I love the nubby texture.
Step 5. Add furniture pads to all four corners to prevent your lamp from scratching tables etc.
Step 6. Turn it on and enjoy!
 (p.s. I actually made two!  One for each side of my bed)
Excuse all the photos, but these turned out SO beautiful in real life, I had to share.
Look at the knots on the side and front and the variations in color!You can see where this block was nailed to another one on the lower half of this side.  These characteristics make each one a unique piece of art.
Click the image below for the updated photo instructions to assemble this lamp
(thank you children for breaking it so I could put it back together and take photos along the way):
Linked Up: Funky Junk, 30 Days, Inspired by Charm, Blue Cricket Design, Tatertots & Jello, French Country Cottage, Home Stories A2Z